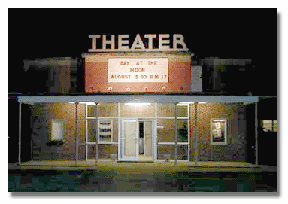 Fauquier Community Theatre was organized in 1978 by a group of committed volunteers who wanted to provide theater productions for the local community.  It has been performing ever since!
Each year FCT mounts an ambitious schedule of plays and musicals, always striving for material that appeals to the broad tastes of the community, including children. At least one show each year is specifically chosen to give youngsters the chance to become active in theatre.  Often a summer show is produced completely by high school and college students in the community.
FCT's first home was a tiny stage in the attic of an historic building in Old Town Warrenton. "The Loft," as it was called, was the theatre's home for many years.  Today FCT stages its productions in the Vint Hill Theatre, on the grounds of the old Vint Hill Army Base near Warrenton.  When the Army vacated the base many years ago, FCT took over its old movie theatre. Seats were removed to make room for a custom built stage, and the technical facilities were upgraded for use as a theater for the performing arts.  The Vint Hill Theatre seats approximately 200 people, has an orchestra pit, and adequate backstage facilities for small plays or large musicals.
FCT is a non-profit organization which is governed by a board of directors made up of volunteers. Some come from the artistic side of theater; others offer their business and administrative knowledge to keep the theater healthy.
All of FCT's actors, musicians, back stage and behind-the-scenes personnel are volunteers as well.  And there is always plenty of room for newcomers!  Please consider the many opportunities to get involved by sharing your gifts and talents.
FCT's MISSION STATEMENT
Fauquier Community Theater seeks to enrich and entertain a range of audiences through a variety of live theater productions that enhance the cultural life of the community. The Theater strives to offer a range of challenging creative opportunities that inspire people of all ages and backgrounds to participate in theatre. FCT seeks to cultivate an appreciation of the performing arts in our community by offering high quality performances, by educating through experience, by participating in community activities, and by cooperation with other performing arts groups.
FCT's VISION STATEMENT
The Fauquier Community Theater is a vital component of the cultural life in our area of Northern Virginia. Our vision is one of growth: to enhance the creativity and quality of our performances, to experience growth in our membership, to expand our audience, to increase volunteerism, and to meet the needs of our audiences by staying in touch with the community's desires. FCT will pursue a program that ignites excitement, enhances our image, and promotes participation by the community.