Events
FCT periodically will showcase artists in special events. The information about upcoming events will be available on the News & Updates section on the Home Page or you can subscribe to our Spotlight Newsletter to receive all the latest updates about FCT.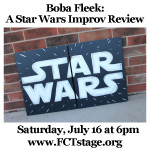 Boba Fleek: A Stars Wars Improv Review
Saturday, July 16 at 6 pm
1 hour long
Head over to Old Busthead Brewery after the show!
Tickets
Adults $10
Students and Children $5
Tickets are available online or email or by leaving a message at 540-349-8760.
The Fauquier Community Theatre Presents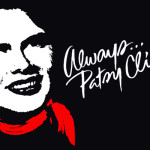 Starring Katy Benko and Ivy Elizabeth
Created and Originally Directed by Ted Swindley – Based on a true story
Director Ken Wayne
Producer Don Richardson
Dates: Sept 2, 3, 4, 9, 10, 11
Friday and Saturdays at 8pm,  Sundays at 2pm
"Always…Patsy Cline" is more than a tribute to the legendary country singer who died tragically at age 30 in a plane crash in 1963. The show is based on a true story about Cline's friendship with a fan from Houston named Louise Seger, who befriended the star in a Texas honky-tonk in l961, and continued a correspondence with Cline until her death.
The musical play, complete with down home country humor, true emotion and even some audience participation, includes many of Patsy' unforgettable hits such as Crazy, I Fall to Pieces, Sweet Dreams and Walking After Midnight…27 songs in all. The show's title was inspired by Cline's letters to Seger, which were consistently signed "Love ALWAYS… Patsy Cline."
READ MORE ABOUT KATY BENKO STARRING AS PATSY CLINE:
Katy Benko began singing professionally at the age of 15. In her first three years she rose from a sought after solo act in Northern Virginia to national acclaim. At age 16 she competed in the World Championships of Performing Arts in Hollywood, California and was crowned World Champion Vocalist. Griff O'Neil, the founder and CFO of the World Championships proclaimed that, "At such a young age Katy is truly a world class talent." After the World Championships Katy was signed by the William Morris Agency and Glenn Campbell Management out of Nashville. Marty Gamblin, Katy's manager and career launcher of Alan Jackson and Bryan White stated that, "Katy is the best talent I have ever worked with."
During this time Katy performed as an opening act for many of country music's top stars including Brad Paisley, Kenny Rogers, Brooks and Dunn, and Alan Jackson. Kenny Rogers stated openly, "I'd like to take credit for discovering Katy." Katy was also featured on CNN Worldwide, ESPN's SportsCenter, Fox Network, all of Washington, D.C.'s television stations, National Public Radio's "All Things Considered," the Washington Post and the Washington Times. Locally she has performed at Nissan Pavilion (now Jiffy Lube Live), the Patriot Center, the Birchmere, Jammin' Java, and most of the local large fairs and festivals. Katy was also a personal guest of George and Laura Bush at the White House and has performed on the mall in D. C. in front of crowds over 100,000.
In 2003 Katy released her album "Float". Her first single was played on radio stations across the U.S. and Europe. New Music Weekly out of L.A. proclaimed Katy one of the top ten independent national acts.
During this rise to the national scene, Katy was in a very unfortunate automobile accident.  A driver lost control of their vehicle and hit Katy head-on, leaving her with a concussion, a neck injury, and soft tissue damage in her left inner ear and Eustachian tube. This left Katy unable to hear adequately on stage. She was forced to cancel her performances and withdraw her album from distribution.
It took years of doctor appointments and healing for Katy to hear adequately enough to perform on stage again. By this time she had established an incredibly successful vocal studio in Herndon, teaching aspiring students from her home.  She also married Ryan Miner and began to plan a family. Katy and Ryan moved to Broad Run, Virginia in 2012 where Katy opened the Fauquier branch of her vocal studio. Katy also performs and works with the Fauquier Community Theatre.  In September Katy will be starring as Patsy Cline, her musical idol, in "Always… Patsy Cline."