Main Stage (Auditions)
Auditioning for a show can be scary. Just remember that the directors all want you to do your best and succeed. We try our best to make the experience fun and a time to meet new people. But there are things that you should know. Each director for each show may need to see and hear things in a different manner. This means that you should check the audition announcement carefully. For a straight (non-musical) play you will probably be asked to do cold readings from the script. Occasionally, you may be asked to prepare a short monologue to perform. For a musical, you will be given some pretty specific information about selecting and performing your audition song. You may be given a type of song to perform, a way to perform (with or without accompaniment or tracks), and a time to come depending on your age range. You will generally be asked to learn a short dance routine with a group and perform that. The audition form and sometimes a rehearsal schedule is generally available online. These should be downloaded and completed prior to auditions. We love all our performers and hope that you will join us for a show in the future.
Sign-up to receive audition newsletter from FCT
Location to be determined.
Performance Dates
November 3, 4, 5, 10, 11, 12
Greater Tuna has 2 male characters that play 10 roles each. With lightening fast costume changes the characters are portrayed seamlessly to make the show an uproaring comedy. The setting is 1980's in Texas. The play is notable in that two men play the entire cast of over twenty eccentric characters of both genders and various ages.
Performed by Williams
Charlene Bumiller – Daughter of Hank and Bertha Bumiller, and sister to Stanley and Jody
Jody Bumiller – Youngest child of Bertha Bumiller, followed constantly by "eight to ten dogs"
Stanley Bumiller – fresh from reform school; twin to Charlene, and he later talks to the dead judge gloating how he killed him
Vera Carp – Town snob and vice president of the Smut-Snatchers of the New Order
Petey Fisk – Employee of the Greater Tuna Humane Society
Didi Snavely – Owner of Didi's Used Weapons ("If we can't kill it, it's immortal")
Arles Struvie – A disc jockey at radio station OKKK
Chad Hartford- A reporter from Houston who comes to interview Bertha
Phinas Blye- A politician from Indiana who runs for City Council every election
Harold Dean Lattimer- OKKK's weatherman
Helen Bedd – waitress, Tastee Kreme Diner
Performed by Sears
Bertha Bumiller – wife of Hank and mother to Jody, Stanley, and Charlene; member of the Smut Snatchers of the New Order
Hank Bumiller- Husband of Bertha
Pearl Burras – Aunt to Bertha, who is, as Petey Fisk claims, addicted to killing dogs (in the play, called canicidal thumbitus)
Leonard Childers – Station Manager of OKKK for his talk show, "Leonard on the Line"
Sheriff Givens- Believes in old-fashioned jails
Elmer Watkins, head of the local chapter of the KKK, dedicated to making the town safe "for the right kind of people"
Yippy the dog- Pet of the month for five weeks in a row, yips a lot, and no one wants to adopt him
R.R. Snavely – UFOlogist, town drunk, and husband to Didi
The Reverend Spikes, president of the Smut Snatchers of the New Order
Thurston Wheelis – A disc jockey at radio station OKKK
Inita Goodwin – cook, Tastee Kreme Diner20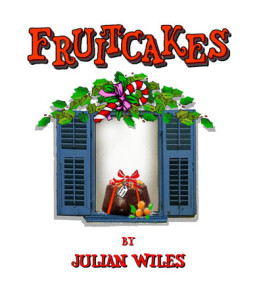 Audition Dates
Friday, September 8 at 7:00 pm
Saturday, September 9 from 11:00 – 2:00 pm
Callbacks Sun., Sept 10 from 2:00-5:00 pm
Be Prepared
Prepare a monologue that is no more than 3 minutes long. There will be cold readings from the script. Prepare to read more than one scene if necessary and multiple parts. Please bring a headshot that you do not mind parting with, a completed Audition Form – Fruitcakes, and a resume of shows you have been in. Children: If you are auditioning for the role of Jamie, please read the description of Jamie carefully and choose a monologue that will fit that character. If you are auditioning for any other child roles, you may use any monologue.
Performance Dates
December 1, 2, 3, 8, 9, 10, 15, 16, 17
CAST:
Adults
Men
Mack Morgan – age 45 – 70 Sells Whirligigs and Christmas trees, kind, and stoic, quiet, strong and very well known and admired in community. Plays the Innkeeper in Christmas pageant
Beebo Dantzler – age 30 – 60 only policeman in small town decorates home outside very festively at Christmas. Well known, liked and depended on in town. Plays Caesar in Christmas pageant
Skeeter – age 30- 60 Fisherman and a poet, a very good poet and a genius. Loves his community and fishing most of all. Plays Joseph in Christmas pageant.
Rick Morgan – age 20 – 45 – Mack Morgan's estranged son, walk – on role at end of play
Women
Miss Alice – age 50 – 80 – gentle and kind, loves to bake, especially special recipe fruitcakes for the whole town at Christmas time. Open and warm to all who meet her, plays an angel in Christmas pageant. Sister to Miss Sarah.
Miss Sarah – age 50 – 80 – grouchy and stubborn, will not engage unless she wants to. Loves to bake though, especially special recipe fruitcakes for the whole town at Christmas time. Plays an angel in Christmas pageant. Sister to Miss Alice.
Betty Jane – age 30 – 50 – Strong community mother and wife, PTO mom, volunteer, organizer of children's activities year round. Directs and organizes the annual town Christmas pageant that includes Children and adults. Decorates home very festively at Christmas, very well known and liked. Married to Beebo Dantzler, town's only policeman. Narrator of Christmas pageant
Mattie Sue – age 30 – 70 – Vibrant neighbor, has been married 6 times. Plays Mary in Christmas pageant.
Children
Boys
Jamie – age 12-17 – Runaway from city, ends up in small town and has to repay certain members of small town community for something he has done wrong. Suburban/urban teenager with jaded edge.
Little Beebo – age 10 – 15 – son to Betty Jane and Beebo. Play's Caesar's servant in Christmas pageant rehearsal.
Sammy – age 10 – 14 – Plays Joseph in rehearsal for town Christmas pageant
Little Skeeter – age 10 – 14 – plays Innkeeper in rehearsal for town Christmas pageant
Little Larry – age 7- 13 – plays Wiseman in rehearsal for Christmas pageant
Little Billy – age 7 – 13 – shepherd or Wiseman in rehearsal for Christmas pageant
James (also plays Little Billy) – age 7-13 – Mac Morgan's grandson, Rick Morgan's son at the end of play
Girls
Sally – age 7 – 10 – Betty Jane and Beebo Dantzler Daughter, angel in Christmas pageant rehearsal
Meredith – age 10-14 – Plays Mary in Christmas pageant rehearsal
Pam – age 13-17 – Betty Jane and Beebo's teenage daughter, friend to Jamie and helps mom with Christmas pageant
Frances – age 10 – 14 – plays narrator in Christmas pageant rehearsal
Amy – age 7 – 10 – plays angel in Christmas pageant rehearsal
Marybeth – age 7 – 10 – plays angel in Christmas pageant rehearsal
Joanie – age 7 – 10 – plays sheep in Christmas pageant rehearsal
Laura – age 7 – 10 – plays sheep in Christmas pageant rehearsal