Youth Spotlight Showcase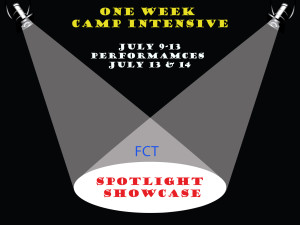 The Summer Spotlight Showcase is a one-week day camp for students with a passion for theatre. Students interested in trying theatre for the first time who do not want a moment to themselves in the spotlight should apply for another camp.
Every student will be assigned two scenes which will both be performed at the end of the week. Every student will act in a scene from a play, Students may sing in one of their scenes if they wish, or will be assigned another scene from a play. The content of the scenes are designed to give students the opportunity to try and learn something new in a low pressure environment. Coaching sessions will focus on character development, physicality, scene structure, and stagecraft. Students will also learn improvisation, theatre games, basic stage makeup, ensemble work, and more. On Friday evening and Saturday afternoon, students will show their hard work to their classmates, friends, and family, in what will be sure to be a fun performance to cap off a blast of a week!
Students will be expected to have looked at their lines and music before the start of the camp, as the coaching times will be focused more on rehearsal and blocking rather than teaching the material. Scene assignments under consideration include pieces from Romeo and Juliet, The Diary of Anne Frank, Anne of Green Gables, The Secret Garden, Henry and Mudge, Mary Poppins, and more!
Director bio:
Brianna Williamson holds a BA in Music with a concentration in Vocal Performance from George Mason University. She has performed in over 11 musicals, plays, and operas since 2012. Brianna has experience as a music teacher and grammar tutor. She also owns Party Princess DMV, a children's party entertainment company that she started after 4 years of experience as a party princess performer. She was last seen at FCT as Rose Lennox in last year's The Secret Garden, a performance that earned her a Lofty nomination.
Brianna has a passion for performing arts, teaching, and working with children, and is so excited to meet her students and help them become the best performer and person they can be!
Spotlight Showcase (non musical camp)
1 week day camp
Director Brianna Williamson
Ages 10-18
July 9-13, 2018 from 9:15 am – 2:15 pm
with 2 performances: July 13 at 7:30 pm & July 14 at 2 pm
Auditions for scene selections June 1 from 6-9 pm
Camp Fee: $225 If you have a second child, fee for second child is $175.